I will describe the United Nations Climate Change Conference and updates to the continuing series of conferences. This will be continually updated. (The New Progressive Alliance is in special consultative status with the U.N. Economic and Social Council.)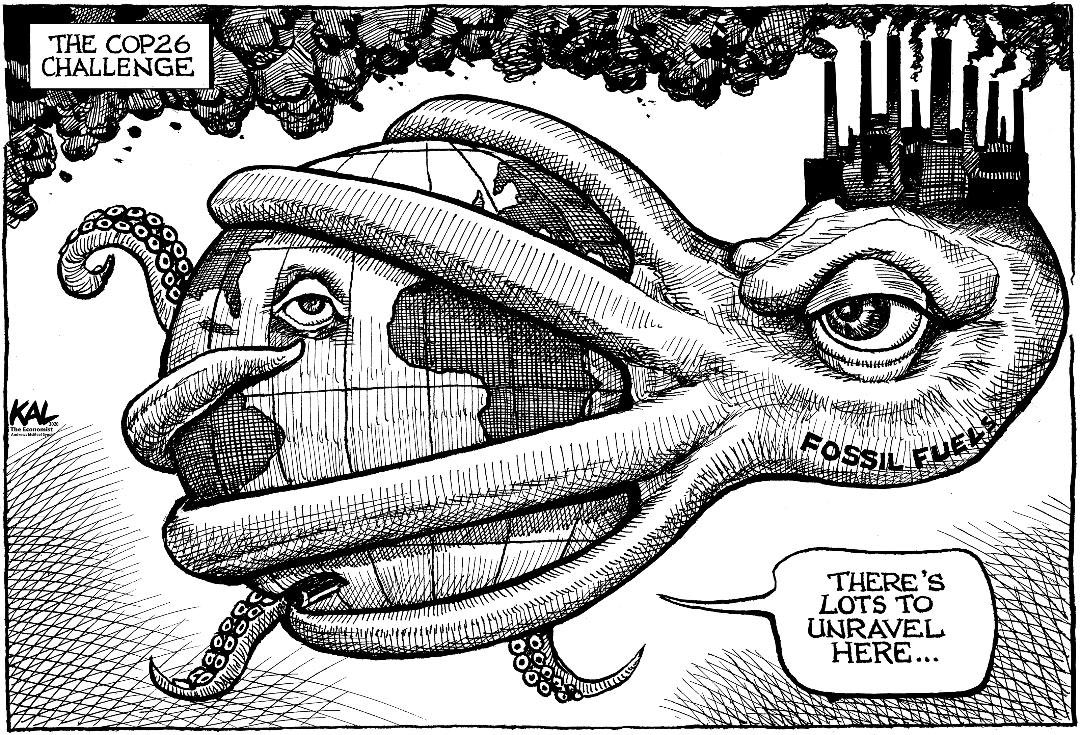 The United Nations periodically holds COP (Conference of the Parties) meetings on dealing with climate change. The first was held in 1995.
I am updating this after COP26. (See below for more information and references.) The two below quotes apply not only to COP 26 but to the whole COP process. Though seemingly contradictory, both have much truth to them and both are good summaries. 
Dr. Mann, a climate fighter who has fought for decades, wrote "Let's call out bad actors, speak truth to power & not allow politicians to make empty promises.   But let's NOT throw out the baby with the bathwater. The COP process is the only viable multilateral vehicle we have right now for global climate action."
Long time climate activist Greta Thunberg wrote "This is no longer a climate conference. This is a Global North Greenwash festival. A two week celebration of business as usual and more blah blah blah."  
As the many references at the end of this article show the COP process certainly did not save us. Indeed by most measurements we are worse off and the consequences of long neglect are finally upon us. Anything short of ending fossil fuels starting seriously right now is inadequate. Many of the leaders of countries have either outright opposed COP goals (Russia, Australia, Saudi Arabia, India, Brazil) or greenwashed their policies by pretending to support the environment while in fact supporting fossil fuel interests (Canada, United States, China, and many European countries). Some countries came with a sincere agenda.
The failure of many leaders to follow through and the clearly inadequate measures notwithstanding, this has not been a waste of time. Limiting financing of fossil fuels, slowing coal expansion, limiting methane emissions, and other measures are small steps in the right direction. More importantly are the lower level contacts. Many leaders have lied or failed, but lower level representatives from many countries have communicated, compared notes, and are cooperating for the future. There are also documented efforts in each country to measure exactly how far or inadequate the climate efforts go at Climate Action Tracker. For climate action for different countries see also Climate Scorecard. 
2015 COP 21
I have read all of the initial international agreement COP 21 (COP 21 – for Conference Of the Parties #21 – Parties are countries.) signed on 12 December 2015. I have practiced law, though never dealt with international law except peripherally in the Navy.
This is certainly not a binding agreement with specific requirements which guarantee our safety. Though under Article 2 the parties will "pursue efforts to" limit the temperature increase to 1.5 °C, each country can do whatever it wants to.  Pressure to do the right activity and enough of the right activity must come from its citizens. To say it is worthless goes too far, however, and I believe is too pessimistic. It does give us a point to demand progress, make comparisons between countries, and make public statements. 
Some points:
More writing is on adaptations than preventing the crisis.
"Parties aim to reach global peaking of greenhouse gas emissions as soon as possible…" (Article 4, paragraph 1)
It gives an out (Article 4, paragraph 15) for "concerns…with economies."
Each party shall "promote sustainable development and ensure environmental integrity and transparency…" (Article 6 paragraph 2)
Countries shall share information and make it public. (Article 12)
Each party shall…provide…a national inventory report of anthropogenic emissions by sources and removals…of greenhouse gases…" (Article 13, paragraph 7)
The parties will meet starting in 2023 and every five years take stock of the global outcomes. (Article 14 paragraph 2)
Later COPs
It is accurate to say these conferences have not presented a surefire ironclad way to prevent or even significantly reduce climate change. However, it would not be correct to say they are useless. They give  measurable goals and show which countries are fighting for fossil fuels. 
After analyzing the emission reduction pledges that all countries signing the Paris Agreement were asked to make and concluding they were too low the Climate Scorecard began its current program of climate change reporting and advocacy.
In the 2018 COP 24 the United States, Russia, Saudi Arabia, and Kuwait shamefully allied to water down science. Poland displayed coal exhibits and refused to participate meaningfully in the event they were hosting. Though the United States is withdrawing from the agreement, both cities and states in the United States have pledged to follow it to the best of their ability. Further, it will take until at least 2021 for the withdrawal to become final and we can change our minds. Another good thing about the 2018 COP 24 is the nations have agreed to use the same measuring standards.
The 2019 COP 25 was the worst COP to date. (See references 25-29) The UNEP Emissions Gap Report states that "even if all current unconditional commitments under the Paris Agreement are implemented, temperatures are expected to rise by 3.2°C, bringing even wider-ranging and more destructive climate impacts." The United States, Russia, Brazil, Saudi Arabia, and Australia blocked even slight progress and in fact regressed. Sadly, this means conventional methods for preventing this disaster simply has not worked for over half a century and we are out of time. Extra legal activities may now be necessary. We should not give in to despair and remember there are still positive signs. (See references 30 and 31)
The 2021 COP 26 was held November 1-12, 2021 in Glasgow. (2020 was cancelled because of COVID.) Comments are at the beginning of this article. See references 34-49.
The 2022 COP27 will be held November 6-18 in Sharm El Sheikh, Egypt.
Conclusion
It will take far more than government or United Nations activities. We still need outside pressure with groups like Extinction Rebellion. Though inadequate, United Nations activities do help. If you want to participate directly in United Nations activities through meetings or writing you can with the New Progressive Alliance because we are in special consultative status with the U.N. Economic and Social Council. See So You Want to Volunteer for the United Nations 
Where does this leave us in the United States? Other countries have already surpassed us to a significant degree in the use of renewable energy.  Falling behind other countries in these areas makes us less competitive. The frequency and severity of weather related disasters will continue to increase and it will become more and more obvious how serious climate change is.
Sadly, almost all countries - certainly including the United States - pay fossil fuel companies orders of magnitude more than renewable energy. Leveling the playing field would help greatly.
Remember mentioning this agreement should be at most a a factor and not a primary argument. There is much animosity against the United Nations, some of it justified. Make your case with benefits of clean energy, better jobs, a more competitive economy, damage of fossil fuels, and cheaper long term costs before mentioning the UN agreement. Then it is good to end with a patriotic appeal that we as a nation can be as competitive as Costa Rica. (or one of the many other countries that have passed us.) I will continue documentation for further United Nations actions.
For 20 articles covering 20 different areas on the environment with over 2,500 references see https://www.newprogs.org/the_environment
References
1-The actual agreement: 2015 United Nations Climate Change Conference, COP 21 
2-Wikipedia on 2015 United Nations Climate Change Conference 
3-3 New Year's Resolutions That Will End the World's Dependency on Fossil Fuels
4-So You Want to Volunteer for the United Nations   
5-Paris Agreement – A Test For Climate Credibility
6-Opinion: Unnoticed, We Are Close to Destruction of Our Planet
7-NGO Releases Open Letter To UNFCCC Climate Secretariat & IPCC
9-The Great Global Transition - Top Ten Stories In this video COP 21 is discussed briefly.
10-It Ain't Over Until It's Over — A COP21 Reality Check
11-Paris climate agreement now international law - Landmark agreement now international law, but implementation is critical, IEA says.
12-Why Paris Climate Agreement Is Finally the Beginning of a Long Journey
13-COP22 – Canada Must Align Action With Climate Rhetoric
14-Thank You For Dropping Out of Paris Agreement and Good Riddance  
15-Massive Gap Between Canada's Emissions Projections And Paris Targets
16-COP23: Countries' Plans Fall Short, More Ambition Is Needed
17-France and UK vow to make up for Trump's withdrawal of climate change funding - President Emmanuel Macron says France aims to close down all coal-fired power plants by 2021
18-US and Russia ally with Saudi Arabia to water down climate pledge
19-UN climate accord 'inadequate' and lacks urgency, experts warn
20-'We can move forward now': UN climate talks take significant step
21-Katowice: COP24 Climate change deal to bring pact to life
22-UN climate change deal leaves door open for US to rejoin
23-Climate Change Performance Index by Countries
24-The major emitters that are meeting their Paris Agreement pledges
25-COP25: Longest-ever UN climate talks end without action Summit derided as an utter failure as the world heads for 3.2°C of global warming
26-In Final Hours, COP 25 Denounced as 'Utter Failure' as Deal Is Stripped of Ambition and US Refuses to Accept Liability for Climate Crisis  "The only thing more disastrous than the state of UN climate negotiations at COP 25 is the state of the global climate."
27-The U.S. and Other Rich Countries Stonewalled $300 Billion Climate Relief Fund  Furious activists protested, but mandatory measures remained lacking as negotiations continue into the night on Friday.
28-Longest UN climate talks end with no deal on carbon markets  After two weeks of negotiations, delegates from almost 200 nations passed declarations that were criticised as too weak.
29-The U.N. climate negotiations are over, and they were a disaster
30-Here's how 6 countries are stepping up to meet the Paris climate goals
31-A tale of two COPs - What happened at COP25 and what comes next year
32-The world set a 2020 deadline to save nature but not a single target was met, UN report says
33-Climate change can affect diseases transmitted by insects, vectors: UN report - Humans are changing zoonotic disease systems and increasing their impact through habitat encroachment, human population pressure, the report said
34-Why COP26 Matters and How You Can Get Involved
35-Is COP26 the Answer We've Been Waiting For Or a Dangerous Fantasy?
37-World Leaders: We Will Not Accept More Empty Promises
38-1.8 Degrees C In Sight? Only if Everyone Keeps Their Promises 
39-'Too early' to assess accomplishments of Cop26, warn experts  
40-Countries' Climate Pledges Built on Flawed Data 
41-Let's emerge from Glasgow still in the fight  We must wrap our minds around two seemingly opposing realities: We are making substantial progress, and it's wholly insufficient to the scale of the climate crisis challenge.  
42-Fossil Fuel Lobbyists Outnumber Any National Delegation at Climate Summit  
43-The UN's Big Climate Summit Is Ignoring a Giant Red Flag - Not a single day will be devoted to food and agriculture, the source of a quarter of global emissions. 
44-(This was the official UN Climate Press Release at the close of COP26) COP26 Reaches Consensus on Key Actions to Address Climate Change 
45-Glasgow's hope at a critical moment in the climate battle by Dr. Mann and Susan Joy Hassol 
46-'Hot air in Glasgow means it's time for radical leadership': Read full letter signed by more than 200 academics - Hundreds of scholars sign open letter urging communities to lead their own 'emergency response' after 'failure' of Cop26 to slash dangerous greenhouse gas emissions 
47-Don't get too bummed out about COP26
48-Make use of the Glasgow Pact for the Climate!
49-Climate Action Tracker Newsletter for COP26
50-
51-
52-
53-
54-
55-
56-
57-
58-
59-
60-
Do you like this post?