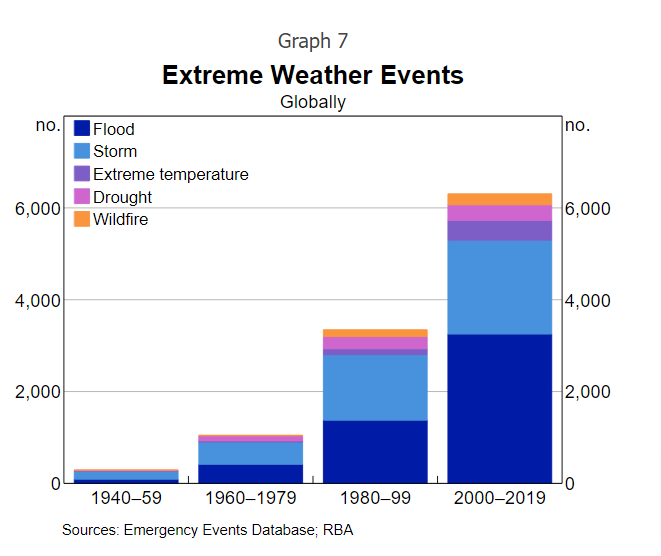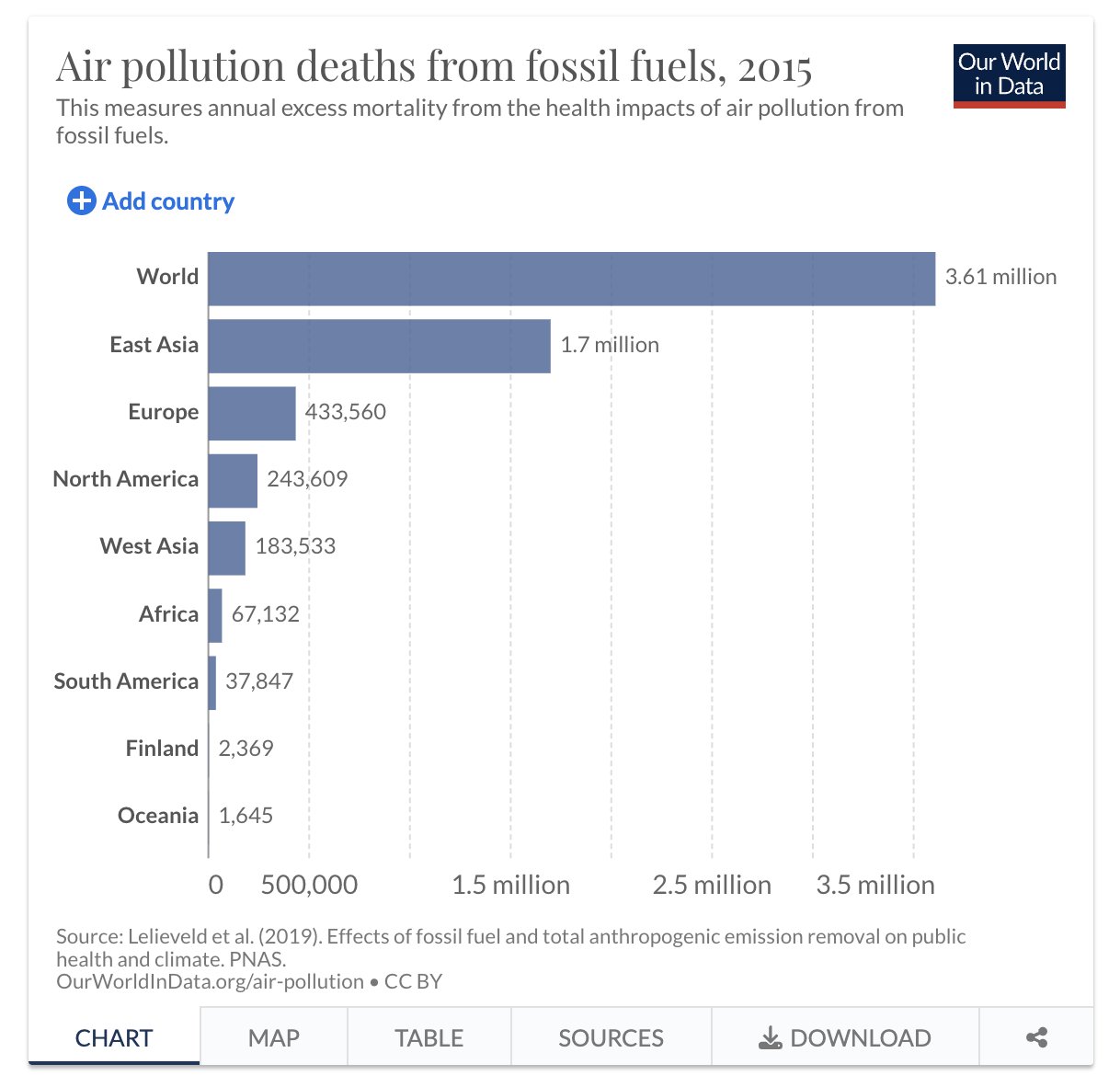 There are immense costs of environmental destruction including droughts, floods, storms. increased health costs, and environmental damage. These externalities include drastically increased healthcare costs due to pollution, clean up costs for environmental disasters, environmental destruction, and wars for oil and uranium. Do not forget clean up costs are paid for by the taxpayers. See Health Costs Of Fossil Fuels Six Times Greater Than Subsidies.  Also consistently ignored is the price for adjusting to the effects of global climate change - even if possible - is far far greater than the cost of stopping global warming. What we have now is private profit and public risk with the tax payers picking up the tab. Unlike the climbing costs of fossil fuels, the cost of renewable energy is declining and has been for decades. One should compare the total costs of fossil fuels with the total costs of renewable energy. Consider the full costs of using fossil fuels. 
The reason we have so many continuously updated references covering decades is to show this is settled science and has been obvious for quite awhile. 
For  articles like this covering different areas on the environment with over 2,500 references see https://www.newprogs.org/the_environment
References
1-Climate Solution: Pay True Cost of Fossil Fuels, NASA Scientist Says
2-Why Droughts Cost More Than You Think: Op-Ed
3-How Global Warming Is Breaking Our Wallets
4-Climate Change: The Cost of Inaction
5-Predictions of the Human Cost of Climate Change
6-Air pollution kills millions each year, says study
7-Coastal Flooding Damage: $1 Trillion a Year by 2050
8-The Trillion Dollar Crisis Facing the U.S.
9-Fishing Communities Will Face Warmer, Acid Oceans
10-Losses from extreme weather rise to $200 billion a year over past decade
11-Doctors "afraid to diagnose health conditions linked to the oil and gas industry"
12-Duke Energy's 'sweetheart' pollution deal undone - State environmental regulator pulls cheap penalty in favor of suit amid Dan River spill scrutiny
13-Energy co. says removal of coal ash ponds could take 30 years, cost 10 Billion Dollars - Environmentalists warn that Duke Energy's plan to update its coal ash storage does not go far enough
14-IPCC climate change report: averting catastrophe is eminently affordable: Landmark UN analysis concludes global roll-out of clean energy would shave only a tiny fraction off economic grow
15-Michael Mann says it's cheaper to combat climate change than pay for global warming: U.S. climatologist urges action before damage caused by global warming overwhelms us
16-Why Should Taxpayers Pay for Toxic Cleanups?
17-Wind energy cut electricity prices by 40% in heatwaves
18-This is how little it costs for states to go renewable
19-The Renewable Energy Juggernaut Gains Momentum
20-None of the world's top industries would be profitable if they paid for the natural capital they use
21-Switching to Wind Power Would Save California 18 Billion Gallons of Water a Year
22-Why Climate Change Is a Terrible Argument for Investing in Renewable Energy
23-French government study: 95% renewable power mix cheaper than nuclear and gas
24-Texas city to go 100% solar, wind – because it's cheaper, more reliable
25-Benefits far outweigh costs of tackling climate change, says LSE study - Improved air quality, energy efficiency and energy security, plus falling cost of renewables among extra gains of reducing global emissions, says Fergus Green
26-Climate change health risk is a 'medical emergency', experts warn
27-Fighting climate change could save lives, money: US report
28-Fossil fuel companies impose more in climate costs than they make in profits
29-Over 60 Groups Call for the Fossil Fuel Industry to Pay for their Climate Damage
30-The boom, the bust, the darkness: suicide rate soars in wake of Canada's oil crisis: In what used to be the 'Texas of the north', unemployment is creeping to 2008 levels, employment insurance beneficiaries have doubled, and the once economic powerhouse is in the throes of a potential mental health crisis
31-Feds object to bankrupt coal company's $11.9M in executive bonuses
32-Climate risks could wreak havoc on financial markets, EU watchdog warns
33-Half of U.S. Fracking Industry Could Go Bankrupt as Oil Prices Continue to Fall
34-IRENA: Doubling Today's Share of Renewables Would Boost Global GDP by $1.3 Trillion
35-Shock figures to reveal deadly toll of global air pollution - World Health Organisation describes new data as 'health emergency', with rising concern likely to influence decision over Heathrow expansion
36-95% consensus of expert economists: cut carbon pollution - A survey of economists with climate expertise finds a consensus that climate change is expensive and carbon pollution cuts are needed
37-Adopting sustainable energy would save millions of lives each year, U.N. says - Sustainable energy wouldn't just help combat climate change; it would also save at least 4.3 million lives annually
38-Scientists: air pollution led to more than 5.5 million premature deaths in 2013
39-Climate change is already causing dramatic flooding in the coastal U.S. | Grist
40-Warming Planet Has Led to Catastrophe in the Middle East | WRMEA
41-Cutting Emissions Could Prevent Nearly 300,000 US Air Pollution Deaths
42-21 Countries That Reduced Carbon Emissions While Growing Their GDP
43-Climate Change's Effects on Food Production Are More Harmful and Deadly Than We Thought
44-The Impacts of Climate Change on Human Health in the United States: A Scientific Assessment - Climate change is a significant threat to the health of the American people. This scientific assessment examines how climate change is already affecting human health and the changes that may occur in the future.
45-Tar Sands Capitol Evacuated Due to Massive Wildfire
46-The $250 billion health benefit of fighting climate change
47-The Beetles: Eighty-Nine Million Acres of Abrupt Climate Change
48-This is what climate change looks like.
49-Big Coal Is Bankrupt. Who Will Pay to Clean Up Its Mess? - Regulators treated the coal industry like it was "too big to fail." Now taxpayers and the environment may pay the price.
50-Peabody's Bankruptcy: A Giant Falls, But Its Obligations Remain
51-$2.5 Trillion Worth of Global Financial Assets at Risk From Climate Change Impacts by End of Century, Study Warns
52-World Air Quality Index Brings Data to Life
53-Experts Weigh In: Cost of Wind Energy to Keep Going Down, Down, Down
54-Solar Cost Hits World's New Low, Half the Price of Coal
55-As Clouds Head for the Poles, Time to Prepare for Food and Water Shocks
56-Climate Victims – Every Second, One Person Is Displaced by Disaster
57-Floods apocalypse around the world in June 2016: USA, Mexico, Russia, China, France, Germany, Belgium, Ukraine, Romania
58-Global Warming in Siberia: Thawing Reindeer Expose Community to Anthrax
59-It's not just Alberta: Fires fuelled by warming climate are increasing - 'This is absolutely a harbinger of things to come,' says Canadian climate scientist
60-NOAA: Climate change played significant role in Louisiana's torrential August rainfall
61-Toxic Algae Blooms Threaten People and Waterways in More Than 20 States
62-Drought Kills 66 Million Trees in California, Increasing Risk of Catastrophic Wildfires
63-Our kids are screwed thanks to climate change: scientist
64-'We're Dying Like Flies': Sick, Retired Coal Miners Betrayed by GOP Senators - Right-wing senators are blocking bill that would provide pensions for retired workers suffering from years spent in coal mines
65-Climate Victims: Every Second, One Person Is Displaced by Disaster
67-Worst-case scenario: Vancouver oil disaster could cost $6 billion - Insurance expert testifies to EFSEC that no policy could cover those costs
68-Rate of environmental degradation puts life on Earth at risk, say scientists - Humans are 'eating away at our own life support systems' at a rate unseen in the past 10,000 years, two new research papers say
69-Solar power is already saving lives in the US. Here's how.
70-UNICEF: Air pollution kills 600,000 children yearly
71-Ethnic Bloodshed Linked to Climate Change
72-What if Companies Had to Pay for Their Environmental Damage?
73-Why Scientists Are Amazed at Oilsands Smog Levels - Air pollution report in Nature shocks even Canada's top researchers.
74-Wildfires and climate change are fueling each other, creating a vicious cycle - Right now, forests absorb global-warming pollution. But that's changing as temperatures rise.
75-All hell breaks loose as the tundra thaws: A recent heatwave in Siberia's frozen wastes has resulted in outbreaks of deadly anthrax and a series of violent explosions
76-David Suzuki: Wildfires Are a Climate Change Wake-Up Call
77-Hundreds Of Coastal Communities Could Face Monthly Floods In The Coming Decades
78-South Asia May Become Too Hot for Humans to Survive by 2100
79-Heat Waves Creeping Toward a Deadly Heat-Humidity Threshold - As global temperatures rise, river valleys in South Asia will face the highest risk of heat waves that reach the limits of human survivability, a new study shows.
80-New study: 'Super heat waves' of 131°F coming if global warming continues unchecked. Temperatures in the Middle East are already soaring past 120°F, while a heat wave named "Lucifer" scorches Europe.
81-Emergency Climate Crisis is upon us
82-Wind and solar are saving Americans billions in healthcare costs - New research measures the value of clean air.
83-Unprecedented Crime: Something Has Gone Awfully Wrong
84-20,000 Scientists Have Now Signed 'Warning to Humanity'
85-As sea levels rise, 'ghost forests' expand - Stands of dead trees in New Jersey's Pine Barrens are another sign of the changing climate.
86-Climate Change Already Hurting Our Health and Economy, Report Warns
87-Climate change and international conflict (pt. 2) - The second of a two-part series addresses the nexus between climate change and international security.
88-Climate change denial should be a crime
89-Climate change puts fish in hot water
90-Extreme Weather, Climate Change Costing Taxpayers Billions - A new government study finds climate change is already costing taxpayers billions in disaster relief due to more extreme weather events.
91-Harvey Aftermath: A Public Health Crisis in the Making - From water contamination to diseases to mold in the walls, dangers continue long after the hurricane. These sorts of risks accompany climate change.
92-How warm oceans can turn coral reefs into graveyards - The most widespread coral bleaching event on record just happened, with more on the way.
93-The Staggering Costs Of Climate Change
94-The 9 limits of our planet … and how we've raced past 4 of them
95-We Have A Climate Crisis: 10 Facts To Know
96-What are the long-term effects of climate change?
97-2.9 Million Children Are Threatened by Toxic Air Pollution From Oil & Gas Development
98-Global pollution kills 9m a year and threatens 'survival of human societies' - Landmark study finds toxic air, water, soils and workplaces kill at least 9m people and cost trillions of dollars every year
99-Michael Mann: Climate Change Worsened the Impact of Hurricane Harvey
100-New British wind power deals cheaper than nuclear supplies
101-New Report Predicts Climate Change Could Cost U.S. $360 Billion Per Year
102-Pollution Killed 9 Million People in 2015, New Study Finds (That's more than AIDS, tuberculosis, and malaria combined.)
103-What Will Happen To Indian Subcontinent's ~2 Billion People As Temperatures Soar?
104-Floods affect millions in Bangladesh, India and Nepal
105-Clean energy is getting really, really cheap  As demand rises, costs are falling rapidly.
106-A Faustian Bargain with the Climate Crisis
107-Harvard Study Puts Hurricane Deaths in Puerto Rico at Nearly 6,000 People—70 Times Official Count
108-Hurricanes will get stronger and wetter with climate change
109-Ocean heat as 'fuel' for hurricanes
110-The Great Barrier Reef Died 5 Times Before, But This Time Might Be the Last
111-The world is hot, on fire, and flooding. Climate change is here.
112-'Carbon bubble' coming that could wipe trillions from the global economy: study
113-AMCDRR focus on disaster displacement
114-Ecosystems across Australia are collapsing under climate change
115-Missing 1.5°C warming target will cost $14 trillion in floods
116-Premature Birth Rates Drop in California After Coal and Oil Plants Shut Down Within a year of eight coal- and oil-fired power plant retirements, the rate of preterm births in mothers living close by dropped, finds new study on air pollution.
117-Where Does Tar Sands Carbon Pollution Go?
118-Climate Economic Impacts From Kinder Morgan May Total $8.7 Billion
119-Trajectories of the Earth System in the Anthropocene
120-The Absolutely Ridiculous Cost of Climate Change (YouTube)
121-The Hidden Costs of Fossil Fuels  The true costs of coal, natural gas, and other fossil fuels aren't always obvious—but their impacts can be disastrous.
122-"Wild, Wonderful" West Virginia's Decapitated Mountains and Deformed Fish   A scientist documents the poisoning of the state's waters by the coal industry
123-Climate change, water and the spread of diseases: connecting the dots differently
124-Mapping climate change in India
125-The Climate Crisis And Your Health: Infectious Disease
126-Cheapest Power Source? Renewables, Not Fossil Fuels!
127-Fossil Fuel Companies Kill With Impunity. Why Are Their Leaders Not In Jail?
128-Our current drought is worse than most megadroughts, new study says
129-Climate Change Is Already Driving Mass Migration Around the Globe
130-World's Oceans Are Warming Faster, Studies Show, Fueling Storms and Sea Rise   'Global warming is here, it has major consequences, and it's going to be very, very difficult to get this under control,' an author of a new report says.
131-Climate stress drove wave of Arab Spring refugees - researchers
132-Oil and gas well cleanup costs could hit $65 billion, says industry watchdog
133-Central America's choice: Pray for rain or migrate  Ravaged by drought, farmers in rural Honduras and Guatemala live on the edge of hunger.
134-David Suzuki: It's our choice: turn down the heat or cook the planet
135-Extreme weather hit 62 million in 2018: UN
136-This is a crisis: Facing up to the age of environmental breakdown
137-New Solar + Battery Price Crushes Fossil Fuels, Buries Nuclear
138-90 Dead, 1 Million Displaced by Monsoon Flooding in India and Nepal
139-Babies Born Near Oil and Gas Wells Are Up to 70% More Likely to Have Congenital Heart Defects, New Study Shows  Researchers at the University of Colorado studied pregnant women who are among the 17 million Americans living within a mile from an active oil or gas well
140-For the Midwest, Epic Flooding Is the Face of Climate Change  We often focus on coastal cities when we talk about rising waters, but massive rainfall in the middle of the US has put millions at risk, harming the nation's ability to produce food.
141-Climate now biggest driver of migration, study finds
142-Extreme Flooding Across Midwest 'Exactly In Line' With Scientific Warnings of Climate Crisis: Experts  "We are living climate change right now."
143-Global heating to inflict more droughts on Africa as well as floods  New UK research predicts extremes of weather will hit food production
144-How the Climate Crisis Is Pushing Central Americans Out of Their Homes Toward the U.S.
145-Just 10% of fossil fuel subsidy cash 'could pay for green transition'  Redirecting small portion of subsidies would unleash clean energy revolution, says report
146-A brief guide to the impacts of climate change on food production
147-'Dangerously close': Tipping points may trigger climate cascade
148-PhD thesis available here: "Low-Lying States, Climate Change-Induced Relocation, and the Collective Right to Self-Determination"
149-'We should start thinking about the next one': Coronavirus is just the first of many pandemics to come, environmentalists warn  "I'm absolutely sure that there are going to be more diseases like this in future if we continue with our practices of destroying the natural world," says marine ecologist Dr Enric Sala
150-California could meet its 2030 climate goals — but it would mean saving money
151-Climate change has cut Australian farm profits by 22% a year over past 20 years, report says  Agriculture department report says changes in climate since 2000 have reduced revenue of cropping farms by $1.1bn a year
152-Climate change threatens crops, water for billions around globe, study says
153-Climate crisis linked to at least 15 $1bn-plus disasters in 2019  Christian Aid report highlights costs of floods, fires and storms around the world
154-Dirty Air and Water Is Killing Us - New study affirms that pollution is the world's leading cause of death, ahead of tobacco use, drug and alcohol use, and even war.
155-In New Study Naming Pollution the 'Largest Environmental Threat to Health,' US Ranks Among Top 10 Nations for Premature Deaths - The analysis found that "exposure to toxic air, water, soil, and chemical pollution" causes 8.3 million premature deaths worldwide each year.
156-More Heart Attacks and Strokes on High Pollution Days in England, Research Finds
157-As Fracking Companies Face Bankruptcy, U.S. Regulators Enable Firms to Duck Cleanup Costs
158-The potential health costs of climate change are huge, report finds - Just 10 extreme events in 2012 cost $1.6 billion in healthcare and lost wages, according to the NRDC.
159-US Air Quality Got Worse After Years of Improvement, And It's Killing More People
160-Wildfires, disease, food scarcity: scientists predict a grim century for Canada
161-World's Oceans Losing Oxygen At Alarming Rate Thanks To Climate Change
162-Air pollution is much worse than we thought - Ditching fossil fuels would pay for itself through clean air alone.
163-Insurer Warns of Ecosystem Collapse in One-Fifth of Countries, Imperiling $42 Trillion in Global GDP
164-It's Closing Time: Stranded Liabilities Are The Flipside of Stranded Assets
165-The fires raging out West are unprecedented. They're also a mere preview of what climate change has in store
166-Tiny air pollution rise linked to 11% more Covid-19 deaths – study
167-Fighting climate change: Cheaper than 'business as usual' and better for the economy - Here's why moving now to combat climate change is cheaper and better for the economy than postponing action.
168-Climate Change Already Has a Death Toll — Here Are the Exact Numbers
169-22 disasters, 262 dead, $95bn in damages: US saw record year for climate-driven catastrophes - Report shows US was battered by punishing extreme weather on both the east and west coasts in 2020
170-'Conventional Energy Bubble' Could Cost Utilities $1 Trillion as Cheap Renewables Undercut Fossil Plants
171-150 years of spills: Philadelphia refinery cleanup highlights toxic legacy of fossil fuels
172-Economic Devastation From Climate Crisis Like Two Covid-19 Pandemics Per Year by 2050: Analysis  But Oxfam International says 2021 "could be a turning point if governments grasp the challenge to create a safer more liveable planet for all."
173-Governments Are Making Taxpayers Subsidize Corporate Cleanup of Oil and Gas Wells
174-How many people has climate change killed already?  A first-of-its-kind study says hotter temperatures have already killed thousands.
175-Oil and Gas Firms Are Saddling States With Billions in Cleanup Costs
176-$1 Trillion in Oil and Gas Pipelines Worldwide Could Become Stranded Assets, New Report Warns
177-The cost to clean up New Mexico's oil and gas industry? $8 billion.  The state has secured just 2 percent of that total from oil and gas operators.
178-Waiting to Address Climate Change Will Cost Trillions of Dollars
179-The number of lives that clean energy could save, by U.S. state  Air pollution from burning fossil fuels causes over 50,000 U.S. deaths and $445 billion in economic damage annually.
180-Wildfires, floods and extreme heat: It is time to heed warnings from climate scientists by Dr. Mann
181-Cutting Carbon Pollution Quickly Would Save About 74 Million Lives, Study Finds
182-A billion children at 'extreme risk' from climate impacts – Unicef - Report launched with youth activists including Greta Thunberg paints 'unimaginably dire' picture
183-Climate Crisis, Extreme Weather & Climate Action Dr. Mann on YouTube
184-Angola: Millions facing hunger, as thousands flee their homes as drought ravages the south of Angola
185-Climate change is increasing Lyme disease risk in New England
186-Dangerous Air: As California Burns, America Breathes Toxic Smoke - Americans across the country are breathing more wildfire smoke—and the harmful particles it carries—than they did 10 years ago, and their health is suffering the consequences.
187-'People Right Now Are Absolutely Feeling the Climate Emergency' - CounterSpin interview with Jean Su on People vs. Fossil Fuels
188-Clean energy could save American lives to tune of $700 billion per year - New research quantifies how actions to curb climate change will yield immediate benefits from cleaner air, better health, and longer lives.
189-Climate change fuels violence and mass displacement in Cameroon 
190-Climate change is affecting crop yields and reducing global food supplies
191-Climate famine in Afghanistan
192-Climate Solution: Pay True Cost of Fossil Fuels, NASA Scientist Says
193-Ten Million a Year - David Wallace-Wells on polluted air
194-Flight for Their Lives - Stories of Climate Migration
195-Kids' quality of life will depend on today's climate choices - Children born today will experience 5 to 10 times more extreme heat waves than their grandparents, according to a new study in Science.
196-Living near oil and gas wells increases air pollution exposure, according to Stanford research
197-It is climate inaction that will lead to people living more difficult lives - In the past year we've seen climate change-fueled extreme weather to rival Revelations.
198-Op-Ed: On the climate crisis, delay has become the new form of denial
199-Superstorm Sandy: A Climate Wake-Up Call
200-The Year Our Climate Crisis Got Even More Real
201-Scietists Expect More Tornado Outbreaks Due to Human-Caused Climate Change (YouTube)
202-Climate change can impact your finances. The government wants to come up with solutions
203-Weather and climate extremes in Asia killed thousands, displaced millions and cost billions in 2020 by World Metrological Organization
204-East Africa Communities Contend with Severe Climate Risk, Question Colonial Project Priorities
205-Chemical pollution has passed safe limit for humanity, say scientists - Study calls for cap on production and release as pollution threatens global ecosystems upon which life depends
206-We need to talk about the latest IPCC report with Climate Scientists Peter Kalmus & Ella Gilbert (YouTube)
207-2021: Year of Unprecedented Climate Impacts
208-How New Mexico abandoned 1,000 oil and gas wells overnight - The state now claims it has more than 1,700 orphan well sites that will cost $290 million to clean up.
209-Millions suffering in deadly pollution 'sacrifice zones', warns UN expert - Businesses blamed for rise of toxic hotspots hitting poor communities hardest
210-New IPCC report highlights urgency of climate change impacts - Scientific assessment warns that missing Paris targets would harm human health and biodiversity worldwide, and risk irreversible losses sooner than previously thought.
211-Study finds US flood damage risk is underestimated
212-UN report: The world's farms stretched to 'a breaking point'  The world's climate-stressed and pollution-degraded farming and agricultural system must shift quickly to sustainable practices to feed an additional 2 billion mouths expected by 2050, a new United Nations report finds.
213-Climate change and Russia's invasion of Ukraine: A nexus?  Climate change, and climate change policy, surely don't operate in isolation from other important goings-on in the world.
214-Unprecedented heatwave in India: climate change is happening now
215-March 2022: Earth's 5th-warmest March on record - The month featured a $4 billion flood and a mass coral bleaching event in Australia, and an extreme heat wave in Antarctica.
216-The 'whys' beyond the 'what' of the severe western U.S. drought - New video opens window on understanding the explanations for the worst drought in 12 centuries, a 'megadrought' with no end in sight.
217-The financial impacts of climate change: 2022 update
218-Yes, the drought really is that bad - The Western U.S. is experiencing its worst drought since 800 A.D.
219-'A failure of humanity': World's poorest countries contend with climate disasters caused by the richest nations
220-'Gold rush' for gas production threatens to lock in global heating
221-California Towns Scramble to Prevent Next Wildfire Catastrophe - Wildfires loom all over, but the rural counties with poor and elderly residents face the greatest threats.
222-Chilli peppers, coffee, wine: how the climate crisis is causing food shortages
223-The banks collapsed in 2008 – and our food system is about to do the same
224-Hundreds Dead from Heat as Extreme Temperatures Scorch North Africa, Asia, Europe, China
225-The Dawn of the Apocalypse We were warned for decades about the death march we are on because of global warming. And yet, the global ruling class continues to frog-march us towards extinction. by Chris Hedges
226-Irreversible declines in freshwater storage projected in parts of Asia by 2060 - Most comprehensive study to date on water storage in Tibetan Plateau projects near-total loss of freshwater storage in parts of Asia by mid-century under modest climate policy scenario
227-How Many People Must Starve Before It's News?
228-Anthropogenic influence on extreme precipitation over global land areas seen in multiple observational datasets
229-Evidence of anthropogenic impacts on global drought frequency, duration, and intensity
230-Heatwave in China is the most severe ever recorded in the world - A long spell of extreme hot and dry weather is affecting energy, water supplies and food production across China
231-Catastrophe, pollution, dirty subsidies and nature capitalism: another week in the climate crisis
232-Large parts of Amazon may never recover, major study says - Swathes of rainforest have reached tipping point, research by scientists and Indigenous organizations concludes
233-Amazon rainforest fires 2022: Facts, causes, and climate impacts
234-'Betrayal and injustice': U.N. secretary-general says global climate change response is falling short
235-New study more than triples estimated costs of climate change damages - A new Nature study lends weight to the idea that federal agencies could be much more aggressive in regulating climate pollutants.
236-'Climate carnage': UN demands funding surge to save millions of lives - Secretary-general warns effects of global heating are outstripping the ability to adapt to them
237-Climate crisis made summer drought 20 times more likely, scientists find - Record northern hemisphere drought in 2022 hit crops and power stations, worsening food and energy crises
238-Damage control: Reducing the costs of climate impacts in Canada
239-Exposure to environmental toxins may be root of rise in neurological disorders - Doctors warn exposure to omnipresent yet poorly understood chemicals such as microplastics could play a role in dementia
240-After the deluge — cascading effects of extreme weather on human health - First come the flood and the mad rush of damages … and then come the more long-lasting adverse impacts continuing far beyond the initial headlines and hand-wringing.
242-The climate crisis is also a health crisis
243-Our Planet's Future: Combatting Climate Change (YouTube)
244-More than 2,400 lives will be lost to bushfires in Australia over a decade, experts predict - Exclusive: Healthcare costs from smoke-related deaths tipped to reach $110m, new modelling led by Monash University suggests
245-Scientists have discovered tiny bits of plastic in raindrops — here's why that's concerning
246-Extreme weather caused 18 disasters in US last year, costing $165bn - Disasters costing at least $1bn killed 474 people last year, government figures show
247-The U.S. had 18 different billion-dollar weather disasters in 2022 - Hurricane Ian ($113 billion in damage) and drought ($22 billion in damage) were the two most expensive U.S. weather disasters of 2022.
248-Ethiopia's drought-stricken internally displaced people – in pictures The last five rainy seasons since the end of 2020 have failed, triggering the worst drought in four decades in Ethiopia, Somalia and Kenya. The next rainy season, from March to May, is expected to be below average. According to the UN, drought has plunged 12 million people into 'acute food insecurity' in Ethiopia, where a deadly conflict has also ravaged the north of the country
249-Dozens of billion-dollar weather disasters hit Earth in 2022 The year was the second-costliest on record for drought. It also had three mega-disasters costing at least $20 billion, plus a heat wave that killed over 40,000 people in Europe.
250-Fossil fuels kill 9 million people every year. Why are we blind to the harms of oil & gas? (YouTube)
251-Millions Face Food Insecurity as Horn of Africa Braces for Worst Drought Ever
252-Flooding is pummeling the Southeast U.S. These organizers are fighting back. As deadly flooding devastates more communities, often the poorest and most disinvested, residents are banding together to research the problems and press for solutions.
253-EU gives e-fuels compromise to Germany to salvage 2035 engine ban (YouTube)
254-Carbon emissions from global SUV fleet are higher than 189 countries (YouTube)
255-Confirmed: Global floods, droughts worsening with warming
256-Australian coal plants produce less power; but FAR more toxic pollution (YouTube)
257-Why scientists are using the word scary over the climate crisis
258-Air Pollution from Oil and Gas Production Contributes to Thousands of Early Deaths, Childhood Asthma Cases Nationwide - Totaling $77 billion in annual health costs, these impacts affected communities in states with high oil and gas production, as well as states with limited or no gas activity, underlining the need for comprehensive regulatory action to protect Americans from the pollutants generated by this sector. 
259-Air pollution from oil and gas production responsible for $77 billion in annual US health damages, study finds
260-Canadian Government Ad™: Cleaning up the Oil Sands (YouTube)
261-Extreme weather caused two million deaths, cost $4 trillion over last 50 years
262-Air pollution is slashing years off the lives of billions, report finds - Dirty air is a far greater killer than smoking, car crashes or HIV/Aids, with coal burning the leading cause
263-Another climate tipping point to worry about: Plankton - Rising temperatures could turn one of the world's most common organisms into a major source of carbon emissions.
264-Climate Crisis Is on Track to Push One-Third of Humanity Out of Its Most Livable Environment - As conditions that best support life shift toward the poles, more than 600 million people are already living outside of a crucial "climate niche," facing more extreme heat, rising food scarcity and higher death rates.
265-The new reality of a country on fire
266-"This Is the Climate Crisis": Michael Mann on Maui Wildfires & Why Disasters Are Becoming Deadlier
267-The world inches closer to feared global warming 'tipping points': 5 disastrous scenarios
268-
269-
270-
Do you like this post?