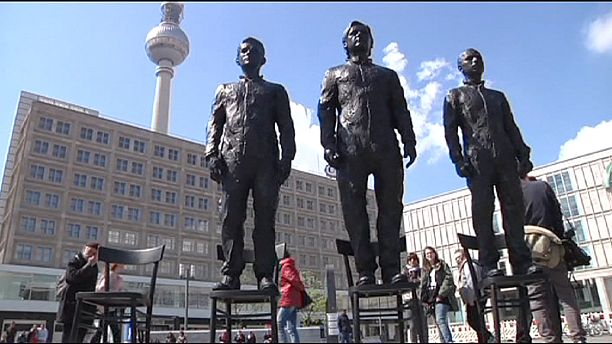 We need to evaluate who our real heroes are. We need to acknowledge those who reveal a crime are not worse criminals than those who commit a crime. (Germans apparently get this. See Chelsea Manning, Julian Assange and Edward Snowden statues unveiled in Berlin   Ironically, two of the three are imprisoned as of 2019 and the third is free to write only from the former Soviet Union. I understand the statues are gone now, but the heritage of the three individuals will live on in Wikileaks)
490-'All Journalists at Risk' if Assange Handed to US Jailers
491-'Doctors for Assange' worry he may die in UK prison having 'effectively been tortured to death'
492-"If Julian Assange is extradited, it's the end of the rule of law in the West" Eva Joly (Interview)
493-Assange's Persecution Has Exposed Media Depravity The World Over
494-Australian media maintains an unconscionable blackout on the case of Julian Assange
495-Australian pseudo-left seeks to cover up its abandonment of WikiLeaks' Julian Assange
496-Breaking News: Proof Assange's Arrest and Seizure Were Directed By Trump and He wanted Assange Assassinated
497-Chris Hedges and Joe Lauria: The Julian Assange Extradition Trial
498-Council of Europe's Parliamentary Assembly calls for Assange's "prompt release"
499-Courage Foundation holds public meeting in New York City in defense of WikiLeaks founder Julian Assange
500-Dissenter Weekly: EPA Employees Push For 'Bill Of Rights' With Whistleblower Protections
501-Edward Snowden, Julian Assange and Chelsea Manning Nominated for 2020 Nobel Peace Prize
502-Edward Snowden: Humanity Must Rise Up Against Governments Using Coronavirus To Take Away Our Rights
503-Interview With James Goodale: Stunning How Few In US Care About Threat Posed By Assange's Case
504-John Pilger: Julian Assange Must be Freed, Not Betrayed   John Pilger on the betrayal of Julian Assange by Australia, that country's service to UK and American empire, and the fate of the free press.
505-Journalist Max Blumenthal Arrested, Hit With Political Prosecution Related To Venezuela Reporting
506-Julian Assange condemns court for preventing him from speaking to lawyers
507-Julian Assange Wins 2020 Gary Webb Freedom of the Press Award
508-Max Blumenthal on the imperial NGOs that ignore Julian Assange - and the billionaires behind them (YouTube)
509-Media dead silent as Wikileaks insider explodes the myths around Julian Assange
510-Mexico president calls for Julian Assange to be released from UK prison
511-Michael Stipe - Release Chelsea Manning Now  (YouTube)
512-More Than 1200 Journalists Speak Up In Defense Of Julian Assange
513-Over 1,000 journalists from across the world unite in defence of Julian Assange - The WikiLeaks founder faces extradition to the US and 175 years behind bars
514-Philip Haney, DHS whistleblower during Obama era, found dead, police say
515-RAY McGOVERN: German TV Exposes the Lies That Entrapped Julian Assange - A major German TV network has aired an interview with the UN rapporteur on torture that reveals the invention of the Swedish "rape" case against Julian Assange.
516-Snowden Warns Targeting of Greenwald and Assange Shows Governments 'Ready to Stop the Presses—If They Can'  "The most essential journalism of every era," says the NSA whistleblower, "is precisely that which a government attempts to silence."
517-Split Hearings: The Assange Extradition Case Drags On
518-The CIA War On Journalism and WikiLeaks (YouTube)
519-The Ideology Behind Michael Grunwald's Repugnant Assange Tweet - The Time correspondent wrote, "I can't wait to write a defense of the drone strike that takes out Julian Assange."
520-WATCH: ASSANGE EXTRADITION: John Pilger, Stefania Maurizi and Charles Glass - Watch Journalists Speak Out, with John Pilger, Stefania Maurizi and Charles Glass.
521-We're Asking One Question In Assange's Case: Should Journalists Be Punished For Exposing War Crimes?
522-When exposing war crimes becomes a crime: the case of Julian Assange
523-Whistleblower Jeffrey Sterling, Who Went Through Kafkaesque Trial, Wins 2020 Sam Adams Award
524-Why Americans—and the World—Ought to Be Concerned About Julian Assange's Extradition Case  The indictment of Assange is recognized by many free speech groups as the most important press freedom case of our time. Yet, with mainstream media blackout and utter silence of political leaders on this important issue, criminalization of journalism goes on without much of the public being aware of it.
525-Press: Why is the UK Government Torturing Julian Assange?
526-Pink Floyd Co-Founder Roger Waters: Julian Assange's Only Crime Was To Speak the Truth! (YouTube)
527-'Persecuting Assange Is a Real Blow to Reporting and Human Rights Advocacy'
528-Australian journalist threatened with prosecution for exposing war crimes in Afghanistan
529-Forty rights groups call on the UK to release Julian Assange
530-Julian Assange's Extradition Hearing: The Only Just Outcome Is His Freedom
531-NSA Whistleblower Reality Winner Tests Positive for Covid-19 in Prison
532-Over and Over and Over Again, History Has Vindicated Edward Snowden
533-Update On Assange: The Most Important Press Freedom Case Of This Era
534-When the government prosecutes whistleblowers, it is sending a message
535-Farcical Coverage of Julian Assange's Farcical Hearing
536-
537-
538-
539-
540-
Do you like this post?
---
Joyce Feilke
commented
2015-02-02 10:26:36 -0800 · Flag
Anytime someone in a dysfunctional system recognizes the dysfunction and attempts to point it out, they need to be prepared to be scapegoated and "punished". That is sad but true. As a former government whistleblower who pointed out abuse and prevailed in a case against the Dept of Defense in 1998, I became aware of the same dynamics of "kill the messenger" when I pointed out dysfunction in the Austin
ISD
last year. Truth is threatening to people who are protecting their illusion. People who have been indoctrinated into a dysfunctional or corrupt system, whether it is a department of the government, a corporation, a school system, or an abusive family system, will retaliate to whistleblowers due to a conditioned sense of loyalty or obedience to abusive authority. It is like the conditioned behavior of Stockholm Syndrome. Authoritarianism has always been recognized in military dynamics to work well for creating dissociation as a coping mechanism for "trained killers"; however, the same coping with depersonalized dissociation has now become pervasive in mainstream society as a result of traumatic stress in childhood. America is suffering
PTSD
and we need to recognize the split functioning of Dr Jekell Mr Hyde that is evident in our society. We need to expose the dark side and try to restore wholeness before it becomes more Orwellian that it already is.